Raspberry Swirl Almond Butter Pancakes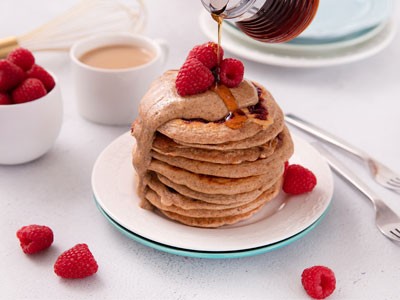 Ingredients
1 package (10oz) WoodstockⓇ Organic Frozen Red Raspberries
¼ cup WoodstockⓇ Organic Cane Sugar or packed Brown Sugar
1 cup whole wheat flour
2 tablespoons WoodstockⓇ Organic Brown Sugar
2 teaspoons baking powder
½ teaspoon fine sea salt
½ teaspoon ground cinnamon
1 to 1¼ cups milk or unsweetened nondairy milk
½ cup WoodstockⓇ Smooth Organic Unsalted Almond Butter, plus more for serving
1 large egg
½ teaspoon vanilla extract
Preferred vegetable oil for cooking the pancakes
Fresh raspberries
Pure maple syrup
Directions
In a medium skillet combine raspberries and sugar. Bring to a rapid boil and cook, stirring frequently, until thick and jammy, about 10 minutes. Set aside.
In a medium bowl, whisk together flour, brown sugar, baking powder, salt, and cinnamon. In another bowl, whisk together milk, almond butter, egg, and vanilla. Add wet ingredients to the dry and stir just until combined. The batter should be pourable but not watery or overly runny.
Heat a skillet or griddle (preferably nonstick) over medium heat. Grease a paper towel with oil and use it to brush the pan. Use a ¼ cup measure to pour batter onto the skillet. Use a small spoon to swirl raspberry mixture into pancake batter.
Cook pancakes on one side until small bubbles appear on top and the undersides are golden, about 2 minutes. Flip and cook until golden on the second side, about 1 minute more.
Serve pancakes warm topped with almond butter, raspberries, and maple syrup.