Herbed Potato Salad with Greek Dressing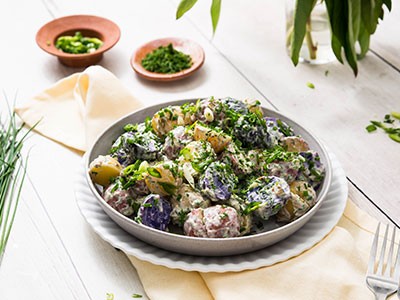 Ingredients
1 pound multi-colored baby potatoes
1 tablespoon plus ½ teaspoon salt, divided
½ cup Greek yogurt
2 tablespoons Woodstock® Organic Jalapeño Relish
2 tablespoons minced fresh dill, plus 1 teaspoon for garnish
2 tablespoons minced chives, plus 1 teaspoon for garnish
1 tablespoon Woodstock® Organic Stone Ground Mustard
1 tablespoon lemon juice
1 garlic clove
½ teaspoon black pepper
1 green onion, chopped
Directions
Place potatoes in a large pot and add water to cover and 1 tablespoon salt. Bring to a boil and cook until potatoes can be pierced with a knife with a little resistance, about 10 minutes. Drain and spread on a baking sheet. Refrigerate until completely cool.
In a large bowl, combine yogurt, relish, dill, chives, mustard, lemon juice, garlic, pepper, and remaining ½ teaspoon salt.
Halve or quarter potatoes depending on their size, then gently toss in yogurt dressing.
Garnish with dill, chives, and green onion.