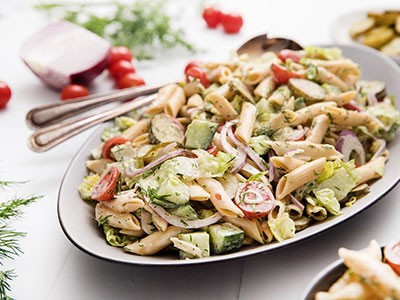 Ingredients
½ cup Woodstock® Organic Mayonnaise
¼ cup brine from a jar of Woodstock® Organic Whole Kosher Dill Pickles
1 garlic clove, minced or pressed
1½ teaspoons Woodstock® Organic Yellow Mustard
1½ teaspoons prepared horseradish
¼ teaspoon fine sea salt
¼ teaspoon black pepper
12 ounces chickpea penne pasta
1 cup sliced Woodstock® Organic Whole Kosher Dill Pickles
½ red onion, very thinly sliced
2 cups cherry tomatoes, halved
2 Persian cucumbers, cut into ½ inch chunks
1 romaine heart, coarsely chopped
1 bunch fresh dill, chopped
Directions
In a medium bowl whisk to combine mayonnaise, pickle brine, garlic, mustard, horseradish, salt, and pepper.
Cook pasta according to package directions, drain, and rinse under cold water until completely cooled. Drain well.
In a large bowl toss pasta with dressing to taste, pickles, onion, tomatoes, cucumber, romaine, and dill.