Blueberry Banana Baked Oatmeal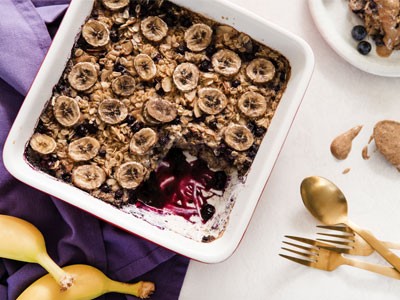 Ingredients
2 cups WoodstockⓇ Organic Irish Style Oats
2 cups milk or preferred unsweetened nondairy milk
½ cup WoodstockⓇ Sliced Almonds
⅓ cup maple syrup
¼ cup Harvest Bay Coconut Oil, melted
1 large egg
1 teaspoon cinnamon
1 teaspoon vanilla extract
½ teaspoon fine sea salt
1 cup WoodstockⓇ Organic Frozen Wild Blueberries
1 medium banana, thinly sliced
Maple syrup
WoodstockⓇ Smooth Organic Unsalted Almond Butter
Directions
Preheat oven to 375℉. Lightly oil an 8" square baking dish.
In a medium bowl combine oats, milk, almonds, maple syrup, coconut oil, egg, cinnamon, vanilla, and salt. Fold in blueberries.
Scrape mixture into prepared pan and embed banana slices into the top. Bake until the top is golden and mixture is set, about 30 minutes.
Serve warm with maple syrup and almond butter.