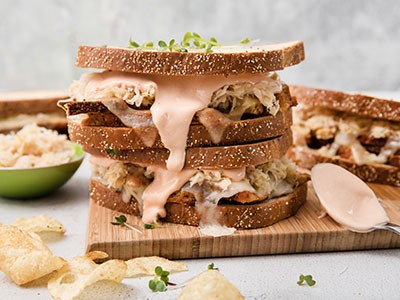 Ingredients
1½ pounds tempeh
3 tablespoons preferred vegetable oil
1 tablespoon black pepper
2 teaspoons fine sea salt
2 teaspoons smoked paprika
1 teaspoon ground coriander
1 teaspoon brown sugar
1 teaspoon mustard powder
1 teaspoon garlic powder
1 teaspoon onion powder
8 slices rye bread
8 slices Swiss cheese
1½ cups Woodstock® Organic Sauerkraut
1 tablespoon preferred vegetable oil
For Russian Dressing:
1 cup Woodstock® Organic Mayonnaise
¼ cup Woodstock® Organic Tomato Ketchup
1 tablespoon prepared horseradish
1 teaspoon hot sauce
Directions
Preheat oven to 375°F. Lightly grease a baking sheet.
Stand tempeh up in a steamer basket placed in a pot with 1 inch water in the bottom. Cover and steam for 10 minutes.
Rub tempeh with oil. In a small bowl stir together pepper, salt, paprika, coriander, sugar, mustard, and garlic and onion powders. Rub spice blend all over tempeh and place on baking sheet. Bake until deep brown, about 30 minutes.
In a small bowl whisk to combine mayonnaise, ketchup, horseradish, and hot sauce.
Lay out 4 slices bread on a countertop. Thinly slice tempeh and divide between bread slices. Top with cheese, sauerkraut, and remaining 4 bread slices.
Lightly brush both sides of sandwiches with oil and place on a baking sheet. Bake until warm and cheese is melted, about 10 minutes. Remove top piece of bread and spread generously with dressing. Place bread back on top and serve immediately.