Spicy North African Veggie Burger with Turmeric Pickles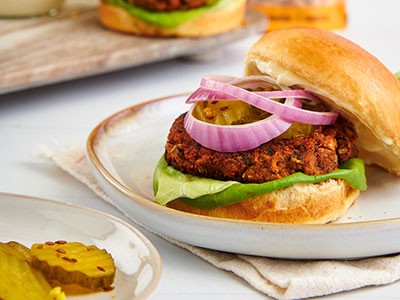 Ingredients
For Veggie Burger:
2 cups mashed sweet potato
1 ¼ cups cooked brown rice
1  15 ounce can black beans, drained, coarsely mashed
1 teaspoon paprika
¼ teaspoon salt
¼ teaspoon pepper
¼ teaspoon chili powder
¼ teaspoon turmeric
2 teaspoons cumin
⅓ cup Woodstock® Organic Cashews, coarsely ground
¼ cup cilantro, chopped
For Turmeric Pickles:
1 cup Woodstock® Organic sliced Kosher Dill Pickles
½ cup pickle juice
1 teaspoon mustard seeds
1 teaspoon turmeric
2 teaspoons caraway seeds
Additional Ingredients:
1 toasted bun
1 Tablespoon of Woodstock® Mayo (contains eggs)
2-3 slices bibb lettuce
shaved red onion
Directions
Turmeric Pickles (make the night before!)
In a medium sized bowl combine pickle juice and spices, stir to combine.
Add pickles and coat evenly.
Place in an airtight container and refrigerate overnight.
Veggie Burger
Preheat oven to 375°F.
In a large bowl, combine all ingredients and mix well.
Measure ½ cup of mixture and form into a ball then press into a patty.
Place formed patties on a greased baking sheet.
Bake patties for 30-40 minutes, flipping after 20 minutes. For slightly drier patty, increase cooking time by 5 minutes.
Place bib lettuce on the bottom half of toasted bun.
Place sweet potato patty on top of bibb lettuce.
Top with turmeric pickles, red onion, mayo and top of bun.