Roasted Delicata and Farro Salad with Hazelnut Dukkah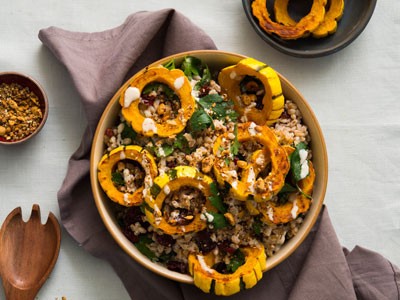 Ingredients
For Farro:
2 cups farro
1 teaspoon fine sea salt
For Squash:
1 large delicata squash, cut into ⅜" rings and seeded
1 tablespoon olive oil
½ teaspoon fine sea salt
For Tahini Dressing:
⅔ cup WoodstockⓇ Organic Tahini
¼ cup lemon juice
2 garlic cloves, minced
1 teaspoon fine sea salt
For Dukkah:
1 tablespoon coriander seed
1 teaspoon cumin seed
½ cup roasted hazelnuts
2 tablespoons toasted WoodstockⓇ Organic Sesame Seeds
½ teaspoon black pepper
To Serve:
1 cup WoodstockⓇ Organic Sweetened Dried Cranberries
1 cup parsley leaves
Directions
Preheat oven to 400℉.
In a large saucepan combine farro, salt, and 4 cups water. Bring to a boil, cover, reduce the heat, and simmer until tender but still chewy, 30-40 minutes.
Meanwhile, on a large baking sheet toss squash with oil and salt. Roast until squash is tender and browned, 20-25 minutes.
In a medium bowl whisk to combine tahini, lemon juice, garlic, and salt. Whisk in ¼ cup cool water or enough to reach a sauce-like consistency.
Heat a small skillet over medium and add coriander and cumin seeds. Toast, stirring frequently, until fragrant and toasted, about 2 minutes. Transfer to a food processor and add hazelnuts, sesame seeds, and pepper. Pulse a few times until coarsely ground.
In a serving bowl toss farro with cranberries, parsley, and ½ cup tahini dressing. Top with squash and drizzle with more dressing. Sprinkle dukkah on top.