Peanut Noodles with Edamame and Shiitake Mushrooms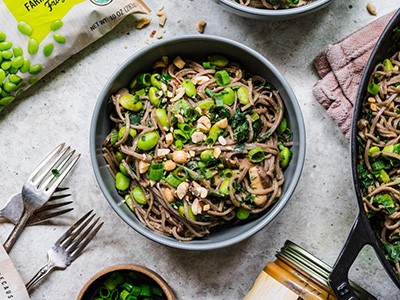 Ingredients
12 oz soba noodles, cooked according to package directions
1 tablespoon sesame oil
½ cup finely chopped green onion
10 oz WOODSTOCK Organic Frozen Shelled Edamame
10 oz WOODSTOCK Organic Frozen Shiitake Mushrooms
10 oz WOODSTOCK Organic Frozen Spinach
2 tablespoons finely chopped cilantro
½ cup chopped salted peanuts
Peanut Sauce:
⅓ cup WOODSTOCK Organic Creamy Peanut Butter
⅓ cup low sodium soy sauce
1 tablespoon rice vinegar
1 tablespoon sesame oil
1 tablespoon sriracha
2 teaspoon coconut sugar
Optional: 1-2 tablespoon water
Directions
Heat sesame oil in a large skillet over medium heat. Add green onion and sauté for 2-3 minutes, until softened. 
Add in the edamame, mushrooms and spinach and stir well. Cook for 8-10 minutes, until vegetables are softened and heated through.
While the vegetables are cooking, whisk together all ingredients for peanut sauce (except water) until completely smooth. If the sauce is too thick, whisk in 1-2 tbsp water.
Add the cooked and drained soba noodles and the peanut sauce to the vegetables and stir well to coat in the sauce. Remove from heat and serve with peanuts and cilantro.