Not Your Basic Beet Burger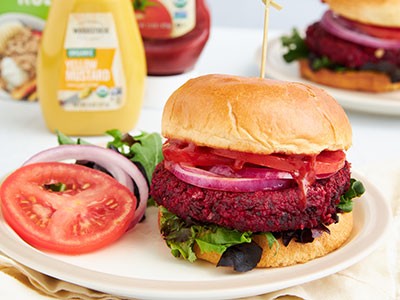 Ingredients
Beet Burger:
2 cups grated raw peeled beets
½ cup cooked lentils
1 cup Woodstock® Organic Traditional Rolled Oats
½ yellow onion, chopped
3 cloves garlic, minced
2 teaspoons fresh thyme
½ teaspoon salt
¼ teaspoon black pepper
Additional Ingredients:
1 toasted bun
Mixed greens
2 tomato slices
Sliced red onion
Woodstock® Organic Ketchup
Woodstock® Organic Yellow Mustard
Directions
Place all ingredients in a food processor. Pulse until mixture comes together, scraping down the bowl in between pulses.
Divide the mixture into 4 equal parts. Roll the mixture into a ball then form into a patty.
Place a nonstick skillet over medium heat. Add 2-3 tablespoons oil and cook 3-4 minutes per side, until golden brown.
Place mixed greens on bottom half of toasted bun.
Add cooked beet burger patty.
Top beet burger with red onion, tomato, ketchup and mustard.
Place top of burger bun on assembled burger.