Loaded Mediterranean Baked Sweet Potatoes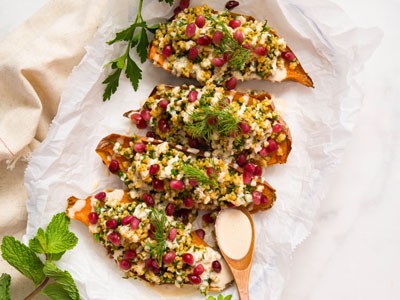 Ingredients
2 large sweet potatoes
1 cup vegetable broth or water
½ cup bulgur
1 teaspoon fine sea salt, divided
½ bunch parsley, minced (about ½ packed cup)
¼ cup lemon juice, divided
3 tablespoons olive oil
2 tablespoons minced dill
2 tablespoons minced mint
¼ teaspoon black pepper
¼ cup Woodstock Ⓡ Sesame Tahini
2 garlic cloves, minced
¼ cup Woodstock Ⓡ Frozen Pomegranate Kernels
Directions
Preheat oven to 400℉. Place sweet potatoes on a baking sheet and roast until tender, about 1 hour.
In a small saucepan, combine bulgur, broth or water, and ½ teaspoon salt. Bring to a boil, cover, and reduce heat. Cook bulgur until most of the water is absorbed and grain is tender, about 30 minutes.
Drain any excess liquid from bulgur and place in large bowl. Add parsley, 3 tablespoons lemon juice, olive oil, dill, mint, remaining ½ teaspoon salt, and pepper.
In a small bowl, combine tahini, garlic, and remaining 1 tablespoon lemon juice. Whisk in enough water to make a smooth consistency, about ⅓ cup. Season with salt and pepper to taste.
To serve, cut sweet potatoes in half lengthwise. Top with bulgur, tahini sauce, and pomegranate seeds.