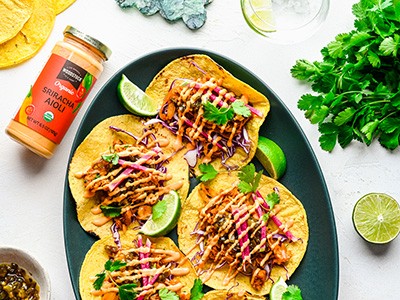 Ingredients
2 tablespoons olive or avocado oil
2 14 ounce cans jackfruit in brine, drained and shredded
1 small yellow onion, thinly sliced
¼ cup water
2 tablespoons tomato paste
1 tablespoon chili powder
2 teaspoon dried oregano
1 teaspoon cumin
½ to ¾ teaspoon salt
½ teaspoon ground coriander
½ teaspoon garlic powder
2 tablespoons cilantro, finely chopped
For serving:
WOODSTOCK Jalapeno Relish
WOODSTOCK Organic Sriracha Aioli
Finely chopped cabbage, purple cabbage, or lettuce
Avocado slices
Radish slices
Warmed corn or flour tortillas
Directions
Stir together spices in a small bowl. In a separate bowl, whisk together tomato paste and water.
Drain jackfruit. Add to a large bowl and use two forks to shred.
Add oil to a large sauté pan over medium heat. 
Add onion and sauté for 5 minutes, stirring a few times.  
Add shredded jackfruit, tomato and water mixture, and spice blend. Stir well to coat. Cook, stirring a few times, for about 10 minutes. 
Serve on warmed corn or flour tortillas with Woodstock Jalapeno Relish, chopped cabbage or lettuce, thinly sliced radish, avocado slices, and a generous drizzle of Woodstock Organic Sriracha Aioli.