Green Pea and Herb Hummus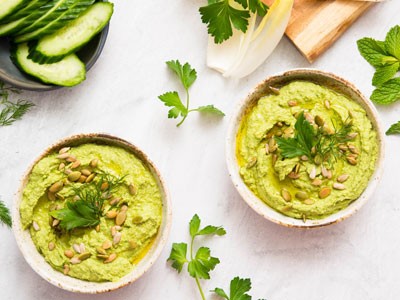 Ingredients
1 can (15oz) chickpeas, drained and rinsed
1 cup Woodstock Ⓡ Organic Frozen Green Peas , thawed and drained
¼ cup Woodstock Ⓡ Organic Sesame Tahini
¼ cup packed chopped dill, plus more for serving
¼ cup packed chopped mint, plus more for serving
¼ cup packed chopped parsley
2 tablespoons fresh lemon juice
1 garlic clove, chopped
1 teaspoon fine sea salt
2 tablespoons Woodstock Ⓡ Organic Pumpkin Seeds , toasted
2 tablespoons Woodstock Ⓡ Organic Sunflower Seeds , toasted
Cut raw vegetables and/or pita triangles or chips, for serving
Directions
In a food processor combine chickpeas, peas, tahini, dill, mint, parsley, lemon juice, garlic, and salt. Pulse until finely ground.
With the machine running, add ⅓ cup cold water in a thin stream and continue to process until the hummus is very smooth.
Transfer hummus to a bowl. Garnish with dill and mint sprigs and pumpkin and sunflower seeds. Serve with vegetables and/or pita.