Green Goodness Goddess Bowl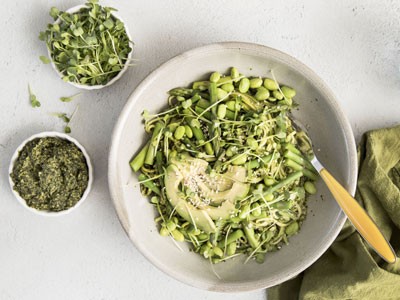 Ingredients
One 10oz package WoodstockⓇ Chopped Frozen Kale, thawed and well-drained
½ cup toasted WoodstockⓇ Organic Pumpkin Seeds
2 tablespoons white miso
1 garlic clove, chopped
1 tablespoon lemon juice
1 teaspoon fine sea salt
⅓ cup olive oil
1 bunch asparagus (about 1 pound), trimmed and cut into 2" lengths
1 cup WoodstockⓇ Frozen Shelled Edamame
1 package zucchini noodles (about 2 packed cups)
1 avocado, pitted and sliced
Sprouts such as broccoli or radish
WoodstockⓇ Organic Sesame Seeds
Directions
In a food processor, combine kale, pumpkin seeds, miso, garlic, lemon juice, and salt. Pulse until finely ground. With machine running, add oil in a thin stream until fully combined.
Fill a pot fitted with a steamer basket with 1" water. Place asparagus in steamer and cook until just tender, 4-6 minutes. Remove steamer basket from pot.
Add edamame to the boiling water and boil 2 minutes. Drain well.
In a large bowl, mix together zucchini noodles and ½ cup pesto.
To serve, divide zucchini noodles between 2 bowls. Top with asparagus, edamame, sliced avocado, and 1 tablespoon pesto. Garnish with sprouts and sesame seeds.