Golden Oat Bowls with Greens and Tahini Sauce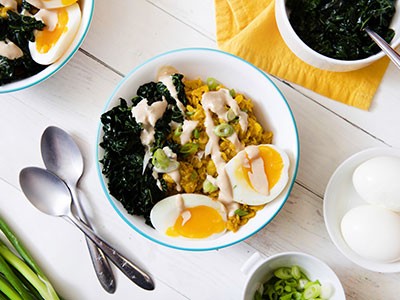 Ingredients
2 eggs
⅓ cup Woodstock® Sesame Tahini
1 tablespoon fresh lemon juice
1 garlic clove, minced or pressed
¾ teaspoon fine sea salt, divided
2 cups low-sodium vegetable broth
1 teaspoon ground turmeric
1 cup Woodstock® Rolled Oats
2 teaspoons olive oil
3 packed cups shredded kale
2 green onions, thinly sliced
Directions
To a large saucepan or pot add 1 inch water and place a steamer basket or insert in pot. Bring water to a rapid boil and use tongs to gently place eggs into steamer basket. Cover and steam for 6 minutes. Fill a medium bowl with ice water.
When eggs are finished cooking, transfer with tongs to ice water and let cool. Crack eggs all over, then peel and cut lengthwise in half.
In a medium bowl whisk to combine tahini, lemon juice, garlic, and ¼ teaspoon salt. Add cool water until mixture reaches a smooth, sauce-like consistency (about ¼ cup).
In a medium saucepan combine broth, turmeric, and ¼ teaspoon salt. Bring to a boil, stir in oats, and reduce heat to simmer, stirring frequently, until oats are tender and liquid is absorbed, about 8 minutes.
While oats cook, heat oil in a medium skillet over medium heat. Add kale and remaining ¼ teaspoon salt and sauté until wilted.
To serve, divide oats between bowls. Top with greens, egg, tahini sauce, and green onion.