Fig and Goat Cheese Hand Tarts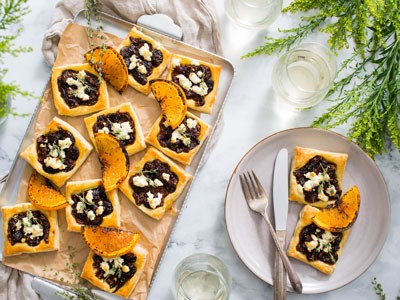 Ingredients
2 cups WoodstockⓇ Organic Dried Figs, chopped
1 cup unsweetened applesauce
Finely grated zest of 1 orange
1 cup fresh orange juice
2 sheets (about 1 pound) frozen puff pastry, thawed
1 large egg, well-beaten with 2 teaspoons water
8oz fresh goat cheese, crumbled
Fresh thyme leaves
Directions
Preheat oven to 375℉. Line 2 large baking sheets with parchment paper.
In a medium saucepan combine figs, applesauce, and orange zest and juice. Bring to a simmer, cover, and simmer until thickened, about 10 minutes. Transfer to a bowl and let cool completely.
Unfold puff pastry on a lightly floured countertop and roll out just enough to smooth out the creases. Cut into 3" squares and transfer to baking sheet. Brush lightly with egg.
Spoon a thin layer of fig mixture onto each puff pastry square, leaving a ½" border all the way around. Sprinkle with goat cheese.
Bake tarts until golden brown, about 18 minutes. Let cool slightly before serving. Garnish with thyme leaves.