Curried Chicken Salad with Almonds and Golden Raisins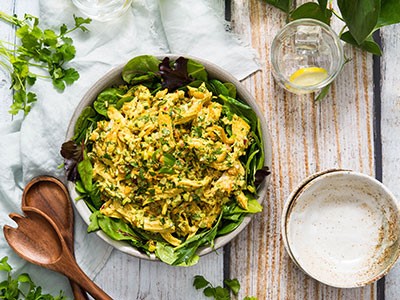 Ingredients
2 boneless skinless chicken breasts
1 tablespoon preferred vegetable oil
2 tablespoons curry powder, divided
½ teaspoon fine sea salt
½ cup Woodstock® Organic Mayonnaise
½ cup canned coconut milk
2 celery stalks, finely diced
½ red onion, finely diced
½ cup Woodstock® Sliced Almonds, toasted
½ cup golden raisins
¼ cup plus 1 tablespoon roughly chopped cilantro, divided
4 cups salad mix
2 teaspoons olive oil
Directions
Preheat oven to 350°F. Line a baking sheet with parchment paper.
Rub chicken with vegetable oil, 1 tablespoon curry powder and salt. Bake 15-20 minutes or until the internal temperature reaches 165°F and the juices run clear when pierced. Transfer to a plate and cool.
In a small bowl, whisk together remaining 1 tablespoon curry powder, mayonnaise and coconut milk.
When cool enough to handle, shred chicken with 2 forks. Transfer to a large bowl and add celery, red onion, almonds, raisins and ¼ cup of cilantro. Stir in dressing.
In a large bowl, toss salad mix with olive oil and season with salt and pepper to taste.
To serve, divide greens among 4 plates. Top with chicken salad and garnish with remaining 1 tablespoon cilantro.