Butternut Pear Soup with Cashew Cream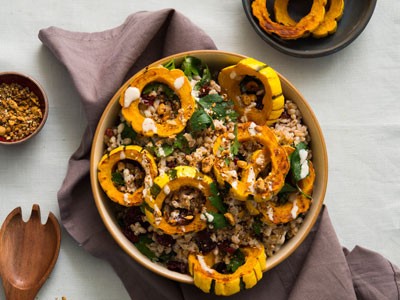 Ingredients
3 tablespoons olive oil, divided
2 medium carrots, diced
1 large leek, halved lengthwise and thinly sliced
1 large pear (Bosc or d'Anjou), cored and diced
3 garlic cloves, chopped
1" piece fresh ginger, peeled and finely chopped
2 packages WoodstockⓇ All-Natural Frozen Butternut Squash
8 cups vegetable broth
1 cup WoodstockⓇ Organic Raw Cashews, soaked in water for at least 4 hours
½ cup sage leaves
Smoked paprika
Directions
In a large saucepan or pot heat 2 tablespoons oil over medium. Add carrots and leeks and saute until softened, 6-8 minutes. Stir in pear, garlic, and ginger and cook, stirring, 2 minutes more. Add butternut squash and broth, bring to a simmer, and cook until all the vegetables are completely soft, about 15 minutes.
While soup cooks, drain cashews and transfer to a blender. Add ¾ cup water and blend until completely smooth and creamy. Add salt to taste
In a small skillet heat remaining 1 tablespoon oil over medium. Add sage leaves and fry briefly until they turn a darker green color, about 30 seconds. Transfer to a plate and set aside.
When vegetables are tender, use an immersion blender or upright blender to puree soup. Add salt to taste.
To serve, ladle soup into bowls and drizzle with cashew cream. Top with a sprinkling of paprika and a few sage leaves.