BBQ Pulled Mushroom Sandwiches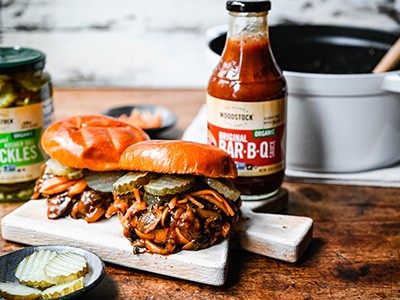 Ingredients
2 tablespoons olive oil
2 yellow onions, sliced thinly
½ teaspoon salt
5 large portobello mushrooms, shredded with two forks
24 ounces of button mushrooms, thinly sliced
18 ounces WOODSTOCK Organic Original Barbecue Sauce
For serving:
6 to 8 toasted buns

Coleslaw
WOODSTOCK Organic Mayonnaise
WOODSTOCK Hot Sauce
WOODSTOCK Pickles
Directions
Heat a large skillet or dutch oven over medium heat. Add oil, onions, and ½ teaspoon of salt. Sauté for 10-12 minutes, until translucent and tender.
Wash mushrooms and discard stems. Use two forks to "shred" the portobello mushrooms. You can also slice them, but shredding will allow for a more meaty texture that's more similar to pulled pork. Thinly slice the button mushrooms. 
Add all of the mushrooms to the pan with onion mixture and stir well. Increase heat to high and cook down for 8-10 minutes, stirring often.
Pour in the barbecue sauce, stir well, reduce heat and let it simmer and reduce for 20-25 minutes.
Serve on toasted buns with mayo, coleslaw and/or pickles.