Barbecue Cauliflower Pizza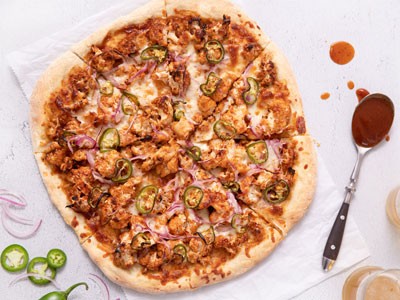 Ingredients
1 medium head cauliflower, cut into florets
¾ cup WoodstockⓇ Organic Hickory Barbecue Sauce, divided
1 tablespoon preferred vegetable oil
1 pound prepared pizza dough
½ cup very thinly sliced red onion
1 cup shredded mozzarella (4oz)
1 jalapeño, thinly sliced
Directions
Preheat oven to 450℉.
On a large baking sheet toss cauliflower with ½ cup barbecue sauce and oil. Spread out in a single layer and roast until browned and tender, about 20 minutes.
On a lightly-floured countertop, roll and stretch pizza dough into a 14" round. Transfer to a large baking sheet or cookie sheet. Top with remaining ¼ cup barbecue sauce, cauliflower, onion, mozzarella, and jalapeño.
Bake until well-browned and cheese is melted, 15-20 minutes.