Wild Rice, Apple, and Mushroom Salad with Spicy Pecans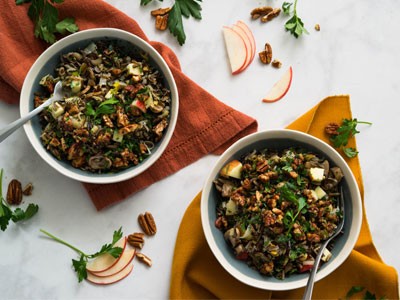 Ingredients
2 cups wild rice
1 teaspoon fine sea salt, divided
1 cup WoodstockⓇ Organic Pecan Halves, toasted and chopped
3 tablespoons WoodstockⓇ Organic Brown Sugar
⅛ teaspoon cayenne pepper
3 tablespoons olive oil
2 medium leeks, halved lengthwise and thinly sliced
12oz mushrooms, sliced
1 tablespoon minced fresh rosemary
1 honeycrisp apple, cored and diced
¼ cup chopped parsley
Directions
Bring 4 cups water to a boil in a medium saucepan. Add rice and ¾ teaspoon salt, lower heat to maintain a gentle simmer, and cook, covered, until rice is tender, about 45 minutes. Drain excess liquid, if needed.
In a medium skillet over medium heat, combine pecans, sugar, ¼ teaspoon salt, cayenne pepper, and 1 tablespoon water. Cook, stirring, until the sugar is melted and coats the pecans, 3-5 minutes. Pour pecans onto a parchment-lined baking sheet to cool.
Add oil to a large skillet over medium heat. Add leeks and cook, stirring, until softened, about 5 minutes. Add mushrooms and rosemary and cook until softened, 5 minutes more.
In a serving bowl, stir together rice, leeks and mushrooms, and apple. Taste and season with more salt if needed. Top with pecans and parsley.