Warm Sweet Potato Smoothie with Caramelized Bananas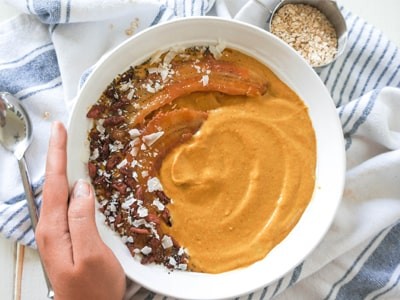 Ingredients
Smoothie:
1 cup Cooked Sweet Potato
½ cup WOODSTOCK Organic Instant Oats
1 cup Vanilla Almond Milk
1 scoop (or about 2-3 Tbsp) Vanilla Protein Powder
½ tsp Cinnamon
½ Vanilla Bean or 1 tsp Vanilla Paste
Caramelized Bananas:
1 Medium Firm Banana
½ Tbsp Butter
3 Tbsp WOODSTOCK Organic Brown Sugar
1 Dash Ground Cinnamon
¼ cup Orange Juice
Toppings:
Maple Hill Creamery Maple Yogurt
WOODSTOCK Organic Shredded Coconut
Directions
Time to make the smoothie. If your sweet potato is not yet cooked, preheat oven to 375* Fahrenheit, wrap a medium sized sweet potato in foil, and bake for about 1 hour, or until potato is soft completely through. Let cool on the side while preparing the rest of the smoothie.
Let oats soak in almond milk for about 10-15 minutes in the base of a blender.
Add in sweet potato, protein, cinnamon, and vanilla. Blend on low/medium until smoothie is thick and creamy. Place aside.
Prepare the bananas! Peel and cut the bananas lengthwise. In a non-stick frying pan, melt the butter on medium-high heat. Add in brown sugar and lay the banana on top, cut side facing up. Cook for about 20 seconds, then add orange juice and cinnamon. Turn bananas (not flip) in the pan and cook for an additional 45-60 seconds while basting in the pan. Immediately place on the side of a cup or on top of the smoothie in a bowl.
Spoon the warm smoothie into a glass or a bowl, add toppings and bananas.