Thai-Style Chicken and Sweet Potato Yellow Curry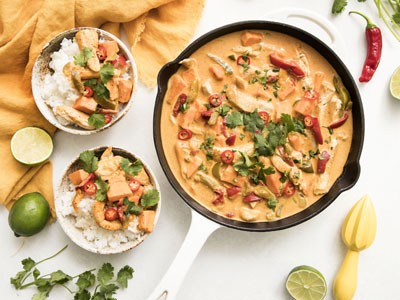 Ingredients
2 tablespoons olive oil, divided
2 boneless skinless chicken breasts, cut into 2" long strips
1 large sweet potato, peeled and diced
1 cup chicken broth, divided
1 package Woodstock Organic FrozenⓇ Tri-Colored Peppers
¼ cup yellow curry paste
1 tablespoon WoodstockⓇ Organic Brown Sugar
2 tablespoons lime juice
One can (14oz) coconut milk
1 teaspoon fine sea salt
2 cups cooked short grain rice
1 red chile, thinly sliced
Chopped cilantro
Directions
In a wide skillet, heat 1 tablespoon oil over medium heat. Add chicken and saute 6-8 minutes or until no longer pink. Remove chicken from pan and set aside.
In same pan, heat remaining 1 tablespoon oil. Add sweet potato and saute, stirring occasionally, about 5 minutes.
Add ¼ cup chicken broth and continue to cook 5 minutes longer or until crisp tender.
Add peppers, curry paste, brown sugar, lime juice, and chicken. Stir to combine, breaking up curry paste. Cook 2 minutes more.
Add coconut milk, remaining ¾ cup broth, and salt. Bring to a simmer, and cook 10 minutes more or until sauce has thickened and flavors have blended.
Serve over rice and garnish with red chile and cilantro.