Pineapple Fried Rice with Tofu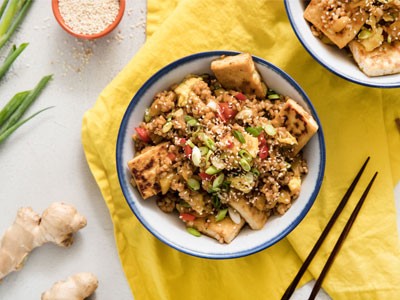 Ingredients
1 cup short grain brown rice
3 tablespoons preferred vegetable oil
1 package (14oz) WoodstockⓇ Organic Extra-Firm Tofu, drained and patted dry
1 red bell pepper, seeded and diced
2 cups roughly chopped fresh pineapple
1" piece fresh ginger, peeled and minced
2 tablespoons tamari or soy sauce
2 eggs, beaten
4 green onions, thinly sliced
WoodstockⓇ Organic Hulled Sesame Seeds
Directions
In a large saucepan combine rice and 1¾ cups water. Bring to a boil, then cover, reduce heat to low, and simmer gently until cooked through, about 45 minutes. Take off heat and let steam for 10 minutes, then transfer to a baking sheet and let rice cool completely. Rice can be made up to 3 days in advance and kept refrigerated until ready to use.
In a large skillet, heat 1 tablespoon oil over medium-high. Cut tofu in half lengthwise, then cut each slab into 8 rectangles and pat dry. Add to skillet and cook, flipping once, until browned on both sides, about 5 minutes per side. Transfer to a bowl.
To the same skillet, add another tablespoon oil and heat until shimmering. Add bell pepper, pineapple, and ginger and cook until pepper is softened, about 5 minutes. Add cooked rice and tamari and let cook, undisturbed, until beginning to brown and crisp, 5 to 7 minutes. Scrape the rice, pepper, and pineapple into the bowl with the tofu.
Return skillet to the heat and add the remaining 1 tablespoon oil. Add eggs and cook, stirring constantly, to scramble. When eggs are set, add to the bowl with the rice and tofu. Add the green onions and toss to combine everything. Serve topped with sesame seeds.