Miniature Grilled Flatbreads with Beet Pesto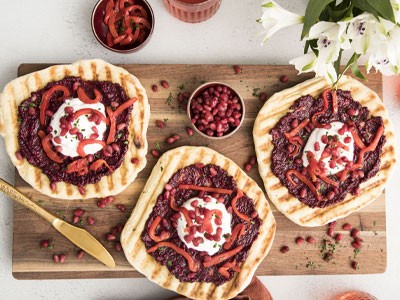 Ingredients
1⅓ cups warm (but not hot) water
½ cup plus 2 tablespoons olive oil, divided, plus more for brushing dough
1 package active dry yeast
3½ cups all-purpose flour
1¼ teaspoons fine sea salt
1 medium beet
1 lightly-packed cup basil leaves
½ cup finely grated Parmesan cheese
⅓ cup WoodstockⓇ Organic Pine Nuts, toasted
1 garlic clove, chopped
1 cup plain Greek yogurt
½ cup jarred roasted red peppers, cut into strips
1 package WoodstockⓇ Organic Frozen Pomegranate Kernels, thawed
Chopped parsley
Directions
In a large bowl combine water, 2 tablespoons oil, and yeast. Let sit 5 minutes. Stir in flour and salt. Knead until smooth and pliable, about 5 minutes. Transfer dough to a bowl lightly coated with olive oil. Cover with a damp kitchen towel and let rise in a warm place until doubled, about 1½ hours.
While dough rises, place beet in a saucepan and add water to cover. Bring to a boil, cover, and reduce heat to simmer until beet is very tender, about 30 minutes. Let cool slightly, then peel and roughly chop beet.
In a food processor combine beet with basil, Parmesan, pine nuts, and garlic. Pulse until finely chopped. With machine running, add remaining ½ cup olive oil in a thin stream until incorporated.
Divide dough into 6 equal pieces, shape into rounds, and let rest, covered, for 10 minutes. Working with 1 piece of dough at a time, on a lightly floured countertop roll out dough rounds to no thicker than ¼".
Heat a grill pan or indoor grill over medium heat and brush with oil. Brush dough rounds on both sides with oil and grill in batches, turning once, until browned on both sides.
To serve, lightly spread pesto on each flatbread, leaving a 1" border all around. Top with a dollop of yogurt, red pepper strips, pomegranate kernels, and parsley. Serve immediately.