Mashed Butternut Squash and Shiitake Mushroom Gravy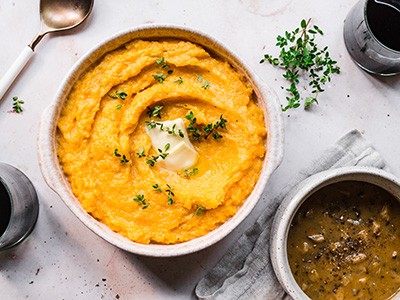 Ingredients
Mashed Butternut Squash:
20 oz frozen WOODSTOCK Butternut Squash
3 tablespoons butter (vegan or regular)
3 tablespoons heavy cream (vegan or regular)
½ teaspoon salt
¼ teaspoon black pepper
Shiitake Gravy:
1 1/2 tablespoon butter (vegan or regular)
1/3 cup finely diced yellow onion or shallot
1 cup frozen, finely chopped WOODSTOCK Shiitake Mushrooms
1 tablespoon all-purpose flour
1 teaspoon fresh thyme, finely minced
½-¾ tsp kosher salt
¼ tsp black pepper
1 ½ cups vegetable broth
1 teaspoon white wine vinegar
 
Directions
Squash: Bring 1 cup of water to a boil with a pinch of salt. Once boiling, add in the squash, stir well and simmer for 5 minutes, until softened. Drain and return to the pot. Mash well, then stir in butter, cream, salt and pepper.
Gravy: Heat butter in a saucepan over medium heat. Add onion and sauté until softened (3-5 minutes). 
Add the mushrooms and continue cooking for 1-2 minutes. Stir in the flour, thyme, salt and pepper, letting it cook for 1 minute.
Whisk in the vegetable broth and vinegar until no lumps remain. Reduce heat and simmer for for 15-20 minutes, stirring occasionally, until thickened and slightly reduced. 
Serve over the mashed butternut squash and enjoy!