Maple-Glazed Brussels Sprouts and Winter Squash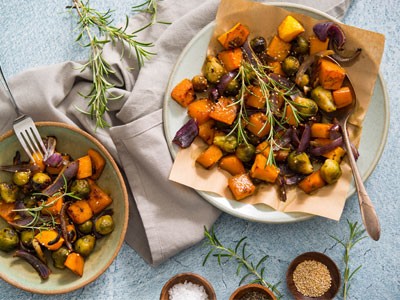 Ingredients
1 package WoodstockⓇ Frozen Petite Brussels Sprouts
1 small butternut squash, peeled, seeded, and cut into ¾" cubes
1 red onion, cut into ½" thick wedges
2 tablespoons preferred vegetable oil
2 tablespoons maple syrup
2 tablespoons soy sauce or tamari
½ teaspoon black pepper
Toasted WoodstockⓇ Organic Sesame Seeds
Directions
Preheat oven to 425℉.
On a large baking sheet toss together Brussels sprouts, squash, onion, oil, maple syrup, soy sauce, and pepper. Spread out in a single layer and roast, stirring every 10 minutes, until tender and browned, about 30 minutes.
Transfer vegetables to a serving dish and sprinkle with sesame seeds.