Korean-Style Barbecue Chicken with Glass Noodle Salad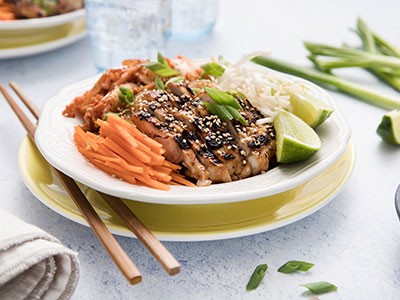 Ingredients
¾ cup Woodstock® Original BBQ Sauce
2 tablespoons tamari
2 inch piece fresh ginger, peeled and minced or grated
1 tablespoon toasted sesame oil
4 boneless skinless chicken thighs
Preferred vegetable oil
6 ounces sweet potato starch noodles (dangmyeon)
1 cup mung bean sprouts
2 large carrots, cut into matchsticks
1 cup kimchi
Sesame seeds
Directions
In a medium bowl whisk to combine bar-b-q sauce, tamari, ginger, and sesame oil. Divide sauce in half.
Prepare a hot grill fire, preheat a gas grill on high for 10 minutes, or preheat a grill pan over medium-high heat.
Lightly brush chicken with oil and place on grill or in grill pan. Grill, turning occasionally, until browned on both sides. Brush chicken with half the barbecue sauce mixture and cook, turning frequently and brushing with more sauce after each turn, until the internal temperature reaches 170°F and chicken is glazed with sauce. Transfer to a cutting board.
While chicken cooks, bring a large pot of water to a boil. Add noodles, stir, take off heat, and let sit until tender, about 8 minutes. Drain well and transfer to a large bowl.
Toss noodles with remaining barbecue sauce mixture and divide among bowls. Slice chicken crosswise and top noodles with chicken, bean sprouts, carrot, and kimchi in small piles. Sprinkle with sesame seeds.