Grilled Vegetable Platter with Roasted Garlic Mustard Sauce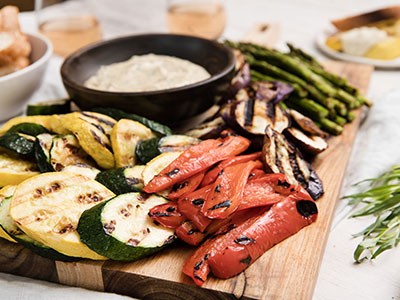 Ingredients
3 heads garlic
3 tablespoons olive oil
½ cup plain Greek yogurt
2 tablespoons Woodstock® Organic Dijon Mustard
1 tablespoon chopped tarragon
2 medium zucchini, cut into ½ inch thick slices on the diagonal
2 medium yellow squash, cut into ½ inch thick slices on the diagonal
2 slender Japanese eggplants, cut into ½ inch thick slices on the diagonal
1 red bell pepper, seeded and cut into ½ inch wide strips
1 bunch asparagus, tough ends trimmed
2 tablespoons preferred vegetable oil
1 loaf crusty bread, sliced
Directions
Preheat oven to 375°F.
Cut off top ⅓ of garlic heads to expose cloves. Place cloves on a doubled piece of foil and drizzle with oil. Wrap tightly, place on a baking sheet, and bake until tender, about 1 hour. Carefully unwrap and let cool for 15 minutes.
Squeeze garlic cloves into a blender and add yogurt and mustard. Blend until smooth. Scrape into a bowl and stir in tarragon.
Prepare a hot grill fire, preheat a gas grill on high for 10 minutes, or preheat a grill pan over medium-high heat.
In a large bowl toss zucchini, squash, eggplant, bell pepper, and asparagus with oil to coat.
Grill vegetables, turning occasionally, until browned and just tender.
Arrange vegetables on a platter with bread and serve with garlic sauce.