Grilled Tofu with Roasted Vegetables and Chermoula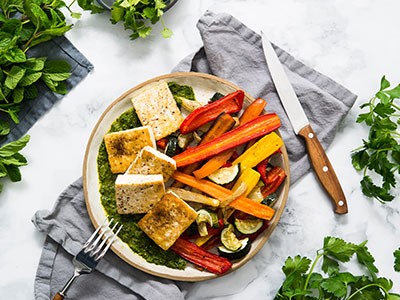 Ingredients
1 zucchini, cut into ½ inch thick half moons
1 red bell pepper, seeded and cut into 1 inch strips
½ fennel bulb, trimmed and cut into ½ inch thick wedges
4 multi-colored carrots, peeled and halved lengthwise
6 tablespoons olive oil, divided
1 teaspoon fine sea salt, divided
½ teaspoon black pepper, divided
1 package Woodstock® Organic Extra Firm Tofu, drained
¾ cup roughly chopped cilantro
½ cup roughly chopped parsley
Finely grated zest of 1 lemon
¼ cup lemon juice
2 teaspoons ground cumin
2 teaspoons ground coriander
1 teaspoon red pepper flakes
Directions
Preheat oven to 400°F. On a large baking sheet toss zucchini, bell pepper, fennel, and carrots with 1 tablespoon olive oil, ½ teaspoon salt, and ¼ teaspoon pepper.
Cut tofu lengthwise into 4 slabs, then cut each slice in half again so you have 8 squares. Transfer to a baking sheet, rub with 1 tablespoon olive oil, and sprinkle with ½ teaspoon salt and ¼ teaspoon pepper. Roast vegetables and tofu until vegetables are tender and both vegetables and tofu are browned, 20-25 minutes.
In a food processor, combine cilantro, parsley, lemon zest, lemon juice, cumin, and coriander. With machine running, slowly drizzle in remaining ¼ cup olive oil. Blend until sauce is bright green and smooth. Stir in pepper flakes and salt and pepper to taste.
To serve, divide vegetables among 4 plates, top each with 2 squares tofu, and drizzle with chermoula sauce.