Dijon Honey Mustard Salmon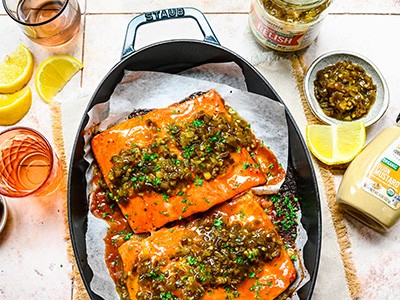 Ingredients
24 ounces salmon
¼ cup WOODSTOCK Organic Dijon Mustard 
⅓ cup honey
1 tablespoon freshly squeezed lemon juice
¼ teaspoon salt
¼ teaspoon smoked paprika
¼ teaspoon garlic powder
Black pepper to taste
For serving:
WOODSTOCK Organic Jalapeño Relish
finely chopped parsley
Directions
Preheat oven to 375˚F and line a baking sheet with parchment paper or aluminum foil.
In a small bowl, whisk together mustard, honey, lemon juice, salt, paprika, garlic powder and pepper.
Place the salmon skin side down on baking sheet. Brush the honey mustard mixture evenly over the salmon. 
Bake for 17-20 minutes, until salmon is cooked through. 
Remove from oven and top with jalapeño relish and finely chopped parsley for serving.