Butternut Squash Ravioli and Vegan Cream Sauce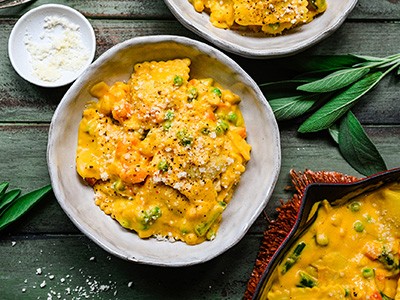 Ingredients
Sauce:
1 bag WOODSTOCK Butternut Squash
1 cup vegetable broth
½ cup oat milk or non-dairy heavy cream alternative
½ tsp garlic powder
½ tsp onion powder
1 tsp salt
Pepper to taste
1 tsp olive oil
1 bag WOODSTOCK Organic Mixed Vegetables
Salt and pepper to taste
1 bag WOODSTOCK Organic Vegan Butternut Squash Ravioli, cooked according to package directions
Vegan parmesan cheese for topping
Directions
Cook butternut squash according to package directions. Drain and transfer to a blender with broth, milk, garlic powder, onion powder, salt and pepper. Blend until smooth.
Heat a large skillet over medium heat. Add oil, then add mixed vegetables and sauté until warmed through, about 5 minutes.
Meanwhile, cook ravioli according to package directions, drain and set aside.
Add sauce to vegetables and bring to a simmer. Remove from heat and add in ravioli, tossing well to combine. Garnish with vegan parmesan cheese and black pepper.