Broccoli Cakes with Herb-Yogurt Dipping Sauce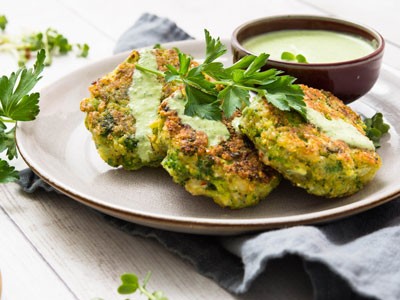 Ingredients
Broccoli Cakes:
1 package Woodstock Ⓡ Organic Frozen Broccoli Florets, thawed and roughly chopped
½ cup grated Parmesan cheese
½ cup cornmeal
2 large eggs, beaten
4 green onions, finely chopped
½ teaspoon ground cumin
½ teaspoon fine sea salt
¼ teaspoon black pepper
Pinch of red pepper flakes
1 tablespoon preferred vegetable oil
Herbed Yogurt Sauce:
½ cup plain yogurt
2 green onions, finely chopped

¼ cup minced chives, plus more for garnish, if desired
¼ cup minced parsley
¼ cup olive oil
1 tablespoon lemon juice
1 teaspoon fine sea salt
1 garlic clove, chopped
Directions
In a large bowl, mix together broccoli, Parmesan, cornmeal, eggs, green onions, cumin, salt, pepper, and pepper flakes.
Press broccoli mixture into a ¼ cup measuring cup and turn out onto a baking sheet. Press slightly to form a cake. Repeat with remaining mixture.
Heat oil in a large nonstick skillet over medium heat. Fry cakes, turning once, until browned on both sides, 3-4 minutes per side.
In a blender, combine yogurt, green onions, chives, parsley, oil, lemon juice, salt, and garlic. Blend until smooth.
Serve cakes with yogurt sauce. seeds. Serve with vegetables and/or pita.