Vegan Blueberry Cornmeal Galette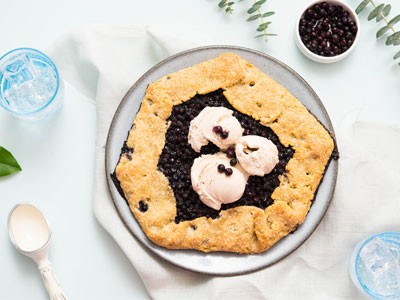 Ingredients
For Crust
:
1 cup all-purpose flour
½ cup fine yellow cornmeal
1 tablespoon coconut sugar
¼ teaspoon fine sea salt
½ cup coconut oil, chilled until firm
For filling:

2 cups WoodstockⓇ Organic Frozen Wild Blueberries
⅓ cup coconut sugar
1 tablespoon cornstarch
2 teaspoons lemon juice
2 tablespoons preferred unsweetened nondairy milk
2 tablespoons WoodstockⓇ Organic Turbinado Sugar
So DeliciousⓇ Very Vanilla Cashewmilk Dairy-Free Frozen Dessert, for serving
Directions
In a large bowl whisk to combine flour, cornmeal, sugar, and salt. Cut coconut oil into almond-sized pieces and add to flour mixture. Use a pastry blender or your fingers to cut coconut oil into flour until the pieces are very small and the mixture is crumbly. Add ice water a tablespoon at a time, mixing in with a fork, until dough comes together and is neither crumbly and dry nor wet or sticky. Transfer to a piece of plastic wrap, shape into a disk, wrap tightly, and refrigerate for 30 minutes.
Preheat oven to 375℉. Line a large baking sheet with parchment paper.
Place dough on a lightly floured countertop and roll out into a 12" round. Transfer dough to prepared baking sheet. 
In a medium bowl stir to combine blueberries, sugar, cornstarch, and lemon juice. Mound blueberries in center of dough, leaving a 2" border. Fold dough over blueberries, pleating it. 
Brush dough edges with nondairy milk and sprinkle with turbinado sugar. Bake until golden brown and bubbling, about 45 minutes. Serve with ice cream.