Raspberry Pomegranate Tart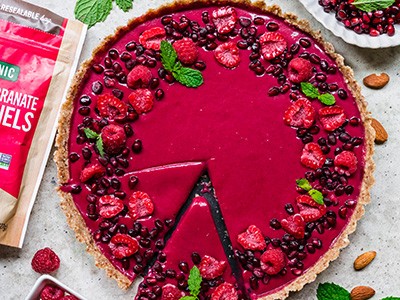 Ingredients
Crust:
½ cup WOODSTOCK Organic Almonds, finely chopped/ground
1 ½ cup WOODSTOCK Organic Instant Oats
4 WOODSTOCK Organic Medjool Dates, pitted and quartered
1 teaspoon vanilla extract
¼ teaspoon salt
4 tablespoons butter, melted
Filling:
10 oz WOODSTOCK Organic Frozen Raspberries
1 cup WOODSTOCK Organic Frozen Pomegranate
2 tablespoons freshly squeezed lemon juice
1 ½ teaspoons lemon zest
½ cup unsalted butter
½ cup white granulated sugar
4 eggs
2 tbsp cornstarch
 
Directions
Add almonds to a food processor and pulse until they form a fine mixture. Add all other crust ingredients to the processor and pulse until the mixture comes together. 
Press the crust into a 9" tart pan with a removable bottom. Refrigerate or freeze while you make the filling.
Add the raspberries, pomegranate, lemon juice and zest to a saucepan over medium heat. Heat until the mixture comes to a simmer, gently mashing the berries.
Transfer to a blender and blend for 10-15 seconds.
Strain into a bowl through a fine mesh sieve to remove the seeds and zest. Get as much juice out as possible. 
Heat the butter in a saucepan over medium heat until melted. Whisk in the sugar, eggs, cornstarch and raspberry/pomegranate puree until completely smooth. 
Reduce heat to low and cook, stirring constantly, until thickened (about 12-13 minutes). If the heat is too high, it will cook the eggs.
Pour the curd into the tart crust, then return to fridge until set (about 4 hours). Garnish with fresh berries and mint. Store in refrigerator.