Peanut Butter Swirl Beet Brownies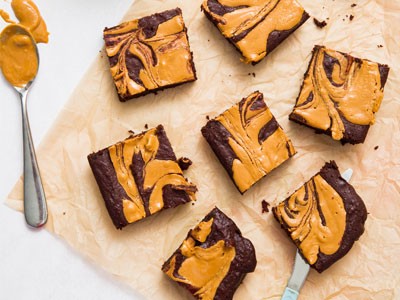 Ingredients
1 medium beet (8-10oz)
1 stick unsalted butter, cut into cubes
6oz bittersweet or semisweet chocolate, finely chopped
½ cup coconut sugar
1 teaspoon vanilla
½ teaspoon fine sea salt
2 large eggs
½ cup all-purpose flour or whole wheat pastry flour
½ cup Woodstock ® Organic Smooth Peanut Butter
1 tablespoon cornstarch
Directions
In a saucepan place beet. Add water to cover. Bring to a boil, cover, and simmer until beet is tender, about 35 minutes. Drain and peel beet, then puree in a food processor. Set aside.
Preheat oven to 350°F. Lightly oil an 8" square baking dish and line with parchment paper so it extends up 2 sides of pan.
In a large microwave-safe bowl combine butter and chocolate. Microwave in 30-second increments, stirring after each, until chocolate is melted and smooth. Stir in sugar, vanilla, and salt. Stir in eggs one at a time. Stir in beet puree. Fold in flour. Scrape batter into prepared baking dish.
In a small bowl stir to combine peanut butter and cornstarch. Drop spoonfuls of peanut butter over brownie batter, then use a knife to swirl it into batter.
Bake until brownies are set, 30-35 minutes. Let cool in pan for 10 minutes, then use parchment to help transfer brownies to a rack to cool completely before cutting.