Lemon Dutch Baby with Strawberry Syrup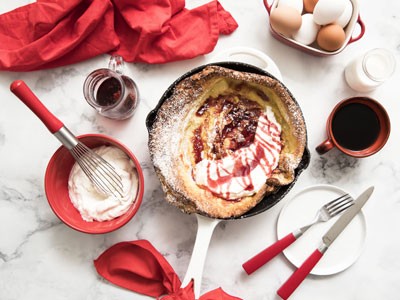 Ingredients
One 32oz package WoodstockⓇ Organic Frozen Strawberries
1½ cups plus 1 tablespoon sugar, divided
½ cup all-purpose flour
½ cup milk
3 large eggs
Finely grated zest of 1 lemon
1 teaspoon vanilla
¼ teaspoon fine sea salt
3 tablespoons butter, cut into small pieces
1 cup heavy cream
Directions
In a medium saucepan combine strawberries and 2 cups water. Bring to a boil then reduce heat to simmer, uncovered, until strawberries look pale, about 20 minutes. Strain strawberry liquid into another pot without pressing on berries. Add 1½ cups sugar and bring to a boil. Boil 20-25 minutes or until syrup is the consistency of maple syrup.
Preheat oven to 425℉. Place a 10" cast iron skillet inside to preheat with the oven.
In a large bowl whisk to combine flour, milk, eggs, remaining 1 tablespoon sugar, lemon zest, vanilla, and salt.
Add butter to hot skillet and swirl to melt and coat skillet. Pour batter all at once into skillet, place in oven, and bake 15-20 minutes or until very puffy and golden.
While Dutch baby bakes, in a large bowl beat heavy cream until softly whipped.
Serve Dutch baby topped with whipped cream and strawberry syrup.