Individual No-Bake Cheesecakes with Blueberry Sauce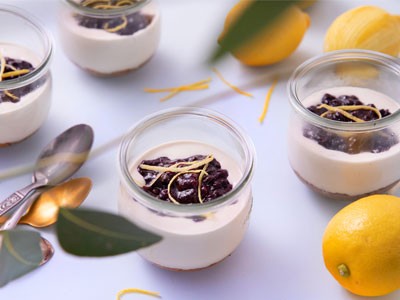 Ingredients
For the crust:
1⅓ cups almond meal or almond flour
8 pitted WoodstockⓇ Organic Medjool Dates, roughly chopped
1 teaspoon ground cinnamon
½ teaspoon fine sea salt
For the filling:
1 cup WoodstockⓇ Organic Whole Cashews, soaked for at least 2 hours and drained
1 cup full-fat canned coconut milk
¼ cup WoodstockⓇ Organic Cane Sugar
3 tablespoons Harvest Bay coconut oil, melted
1 teaspoon vanilla extract
For the blueberry topping:
1 package (10oz) WoodstockⓇ Organic Frozen Wild Blueberries
2 tablespoons WoodstockⓇ Organic Cane Sugar
Finely grated zest of 1 lemon
2 tablespoons lemon juice
1 tablespoon tapioca starch, dissolved in 2 tablespoons cold water
Directions
In a food processor combine almond meal, dates, cinnamon, and salt and pulse until ground into a sticky paste. Divide mixture between 4 small, wide glasses or jars, using about ¼ cup per jar, and press to compact. Refrigerate.
In a blender combine drained cashews, coconut milk, sugar, coconut oil, and vanilla. Blend on high speed until completely smooth and silky and divide between jars, using about ½ cup per jar. Freeze until completely chilled and firm, about 4 hours.
In a medium saucepan combine blueberries, sugar, and lemon zest and juice. Bring to a simmer and cook, stirring occasionally, until thickened, about 10 minutes. Stir in tapioca starch slurry and simmer briefly, until thickened. Remove from heat and let cool completely.
Before serving, spoon cooled blueberry sauce on top of cheesecakes.