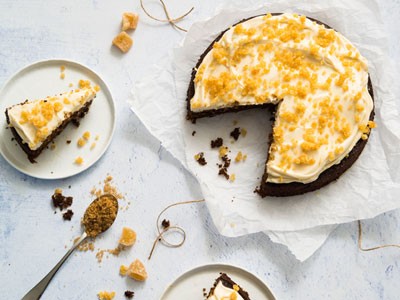 Ingredients
4oz fresh ginger root, peeled and roughly chopped
1¾ cups all-purpose flour
1 teaspoon baking soda
¼ teaspoon fine sea salt
½ cup packed WoodstockⓇ Organic Brown Sugar
½ cup molasses
1 large egg
8 tablespoons (1 stick) unsalted butter
8oz cold cream cheese, cut into cubes
3 tablespoons unsalted butter, softened
3 cups WoodstockⓇ Organic Powdered Sugar, sifted
1 teaspoon vanilla
½ cup chopped WoodstockⓇ Candied Ginger
Directions
Preheat oven to 350℉. Lightly oil a 9" cake pan and line the bottom with parchment paper.
In a food processor pulse ginger until finely minced.
In a medium bowl whisk to combine flour, baking soda, and salt. In a separate large bowl whisk to combine sugar, molasses, egg, and minced ginger.
In a medium saucepan combine butter and ½ cup water. Heat over medium until butter is completely melted. Whisk butter mixture into molasses mixture, then stir in flour mixture to combine.
Scrape batter into prepared pan and bake until a toothpick inserted into the center comes out clean, about 30 minutes. Let cool in the pan on a rack for 10 minutes, then slide a thin knife around the edge of the pan, turn out the cake, remove the parchment paper, and turn cake right-side up to cool completely.
In a food processor combine cream cheese, butter, powdered sugar, and vanilla. Pulse just until smooth and creamy.
When cake is cooled, spread cream cheese frosting on top, leaving the sides bare. Sprinkle with candied ginger.