Cranberry Pecan Cinnamon Rolls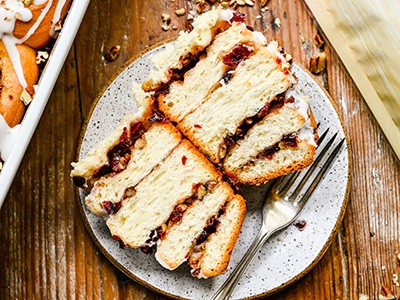 Ingredients
Dough:
1⅓ cups whole milk (room temperature)
⅓  cup unsalted butter, softened to room temperature
4 cups all purpose flour
⅓ cup granulated sugar
3/4 teaspoon kosher salt
1 packet instant rapid rise yeast (1/4 ounce or two teaspoons)
1 large egg (room temperature)
1 egg yolk (room temperature)
Filling:
1/2 cup butter, softened to room temperature
2/3 cup sugar
2 tablespoons cinnamon
1 cup finely chopped WoodstockⓇ Sweetened Dried Cranberries, plus more for topping
1 cup finely chopped WoodstockⓇ Pecan Halves, plus more for topping
Icing:
1/4 cup softened butter
2 cups powdered sugar
2-4 tablespoons heavy cream
1 teaspoon vanilla extract
Directions
Dough: Add butter and milk to a small pot over medium heat. Whisk until the butter is melted and the mixture reaches about 110˚F.
Add yeast to the bowl of a stand mixer. Pour the butter and milk mixture over top while still warm. Whisk and let sit for about 1 minute.
Add flour, sugar, salt, and eggs to the bowl. Using a dough hook, turn the mixer to medium-low and mix for 5 to 7 minutes to form a ball that pulls away from the sides of the bowl. You can add more flour if it's still sticky, a few tablespoons at a time. 
Take the dough out of the bowl, grease the bowl with a light splash of vegetable oil, and put the dough back in. Cover with a clean kitchen towel and set in a warm place for 10 minutes.
Preheat oven to 350 degrees F. Grease a 9x13 baking dish. 
Mix sugar and cinnamon together for the cinnamon roll filling and set aside. Make sure your butter is softened to room temperature.
Flour a clean surface and roll the dough out until it's about a ½ inch thick rectangle.
Spread the softened butter over the dough and sprinkle with cinnamon sugar. Top with the cranberries and pecans.
Starting with the long edge, roll the dough tightly to form a long log. Using a knife or unflavored dental floss, cut the log into a total of 12 even-sized cinnamon rolls.
Place the rolls into the greased baking dish, swirl-side up. Cover with the same dish towel and allow to sit in a warm, dry place for another 20 minutes.
While the rolls are sitting, make the icing. Add the butter and powdered sugar to a stand mixer and beat until light and fluffy (a few minutes). Add in the cream and vanilla and continue mixing.
Bake cinnamon rolls for 23 to 28 minutes or until golden brown on top and cooked in the middle. Spread the icing over the rolls and serve warm. Optional: top with more finely chopped cranberries and pecans.