Cranberry-Almond Crumble Bars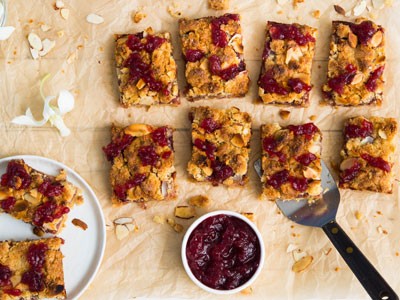 Ingredients
1½ cups almond flour
1½ cups spelt flour
1 cup WoodstockⓇ Organic Pure Cane Sugar
1 teaspoon baking powder
¼ teaspoon fine sea salt
16 tablespoons (2 sticks) cold unsalted butter, cut into cubes
1 large egg
½ cup WoodstockⓇ Sliced Almonds
1 can WoodstockⓇ Organic Whole Cranberry Sauce
Directions
Preheat oven to 375℉. Lightly oil a 13 x 9" baking pan and line with parchment paper.
In a large bowl mix together almond flour, spelt flour, sugar, baking powder, and salt. Use a pastry blender or your fingers to cut butter into flour mixture until the butter is in small pieces and the mixture is crumbly. Add egg and mix in until combined. Divide mixture in half between 2 bowls. To one bowl, add the almonds.
Press half of the crumb mixture (without almonds) evenly into the bottom of the prepared pan. Spread cranberry sauce evenly on top. Crumble remaining crumb mixture over cranberry sauce.
Bake until browned and bubbly, 35-40 minutes. Let cool for 30 minutes before cutting into bars.