Cocoa Shortbread Sandwich Cookies with Strawberry-Mascarpone Filling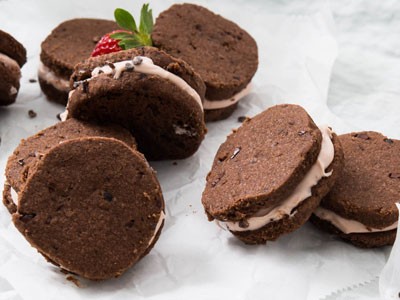 Ingredients
2¼ cups all-purpose flour
¼ cup Dutch process cocoa powder
½ teaspoon fine sea salt
2 sticks unsalted butter, softened
1¾ cups WoodstockⓇ Organic Cane Sugar, divided
1 teaspoon vanilla
3 tablespoon cacao nibs
One 16oz package WoodstockⓇ Organic Frozen Strawberries
1 cup mascarpone cheese
Directions
Preheat oven to 350℉. Line a baking sheet with parchment paper.
In a large bowl, whisk together flour, cocoa powder, and salt. Set aside.
In a stand mixer, cream butter and ¾ cup sugar together until light in color and texture is fluffy. Add vanilla and beat until combined.
Add flour mixture a little at a time and mix until a dough forms. Add cacao nibs and mix until just incorporated.
Transfer dough onto work surface, and using plastic wrap, roll into a log 2" diameter. Wrap tightly and chill at least 30 minutes.
In a medium saucepan combine strawberries and 2 cups water. Bring to a boil then reduce heat to simmer, uncovered, until strawberries look pale, about 20 minutes. Strain strawberry liquid into another pot without pressing on berries. Add remaining 1 cup sugar and bring to a boil. Boil 20-25 minutes or until syrup is the consistency of maple syrup. Transfer to the refrigerator to cool completely.
In a medium bowl, whisk together ¼ cup strawberry syrup and mascarpone cheese. Process until combined. Refrigerate to thicken.
Take cookie dough out of refrigerator and unwrap. Slice cookies ½" thick. Place on baking sheet. Bake 15-20 minutes or until firm to the touch. Let cool on pan.
Once cool, spread a thin layer of filling on half the batch of cookies. Place another cookie on top of each and press lightly.