Chocolate-Dipped Raspberry Linzer Cookies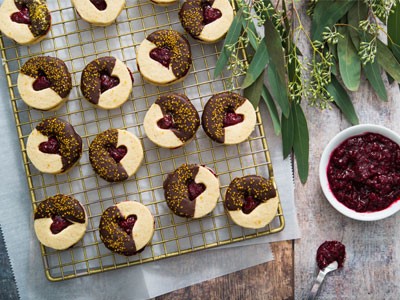 Ingredients
16 tablespoons (2 sticks) unsalted butter, softened
¾ cup WoodstockⓇ Organic Pure Cane Sugar, divided
¼ teaspoon fine sea salt
1 teaspoon vanilla extract
2½ cups all-purpose flour
3 tablespoons milk
1 bag WoodstockⓇ Organic Frozen Red Raspberries
1 cup bittersweet or semisweet chocolate chips
1 tablespoon coconut oil
Edible gold sprinkles, optional
Directions
In a large bowl or the bowl of a stand mixer fitted with the paddle, beat butter, ½ cup sugar, and salt until very smooth. Beat in vanilla, then add flour and milk and mix on low speed until combined and smooth.
Transfer dough to a sheet of parchment paper. Shape into a 2" diameter log and wrap tightly. Refrigerate until firm, at least 1 hour or overnight.
Preheat oven to 350℉. Line a cookie sheet with parchment paper.
Slice dough log into ¼" thick rounds and place on cookie sheet. Use a small heart-shaped cutter to cut out the center of half of the cookies (if desired, bake the heart shapes alongside the cookies). Bake until set but barely browned, about 15 minutes. Transfer to a rack to cool completely.
Meanwhile, in a medium saucepan combine raspberries and remaining ¼ cup sugar. Bring to a simmer and cook, stirring, until the mixture is thick and jam-like. Remove from heat and cool completely.
Turn cookies that do not have a heart cut out over so the bottom side is facing up. Spread a thin layer of raspberry mixture on top. Top with the cookies that have heart cut outs.
In a medium microwave-safe bowl, melt chocolate chips and coconut oil in 30-second bursts, stirring after each one. Dip cookies partially in chocolate and place on a parchment-lined baking sheet. If desired, decorate with sprinkles. Refrigerate to set chocolate.
Store cookies refrigerated in an airtight container.