Brown Butter Bourbon Pecan Pie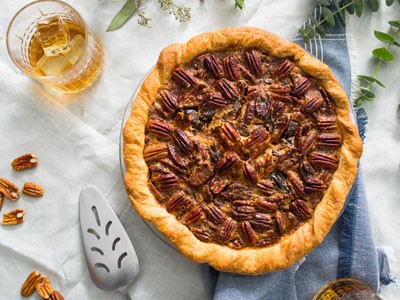 Ingredients
For Crust:
1⅓ cups all-purpose flour
1 tablespoon WoodstockⓇ Organic Pure Cane Sugar
¼ teaspoon fine sea salt
8 tablespoons (1 stick) cold unsalted butter, cut into cubes
Filling:
2 cups pecans
¾ cup WoodstockⓇ Organic Medjool Dates, pitted and chopped
2 tablespoons brewed coffee
4 tablespoons unsalted butter
½ cup packed WoodstockⓇ Organic Brown Sugar
1½ teaspoons all-purpose flour
1 teaspoon fine sea salt
3 large eggs
1 cup golden cane syrup
2 tablespoons bourbon
1 teaspoon vanilla
Directions
For crust, in a medium bowl combine flour, sugar, and salt. Add butter and work into flour with your fingertips, flattening the pieces of butter and breaking them up until all the butter is flattened and broken apart into roughly pea-sized pieces. Add ¼-⅓ cup ice water a little at a time, stirring with a fork between additions, until all the flour is moistened but not wet. The flour mixture should come together when squeezed. If it is too crumbly or dry, add a little more water.
Transfer dough to a piece of plastic wrap and shape into a disk. Wrap tightly and refrigerate at least 2 hours or up to 2 days.
Let dough sit at room temperature for 15 minutes before rolling. On a lightly-floured surface roll out dough into a round that is 1" larger on all sides than a 9" pie dish. As you roll, check frequently to make sure the dough does not stick to the work surface.
Transfer dough to the pie dish, pressing crust into the corners of the dish. Trim away all but 1" of crust overhang, then fold overhang back under itself so a thick edge of dough sits on the rim of the pie dish. Crimp or flute the edge as desired and refrigerate while you prepare the filling.
Preheat oven to 350℉. Spread pecans on a baking sheet and toast until nuts are fragrant, 8-10 minutes. Increase oven temperature to 375℉.
In a medium skillet, combine dates and coffee and cook over low heat until dates are softened, 3-5 minutes. Transfer to a bowl and let cool.
Wipe out pan, and add butter. Melt over low heat swirling butter until fragrant and golden, 5-7 minutes.
In a large bowl, whisk together brown sugar, flour, salt, and eggs. Add cane syrup, bourbon, vanilla, dates, toasted pecans, and browned butter.
Place prepared pie crust on a baking sheet. Scrape filling into crust.
Bake until set, 40-45 minutes. Let cool completely before slicing.