Sweet Potato Chia Pudding with Roasted Pears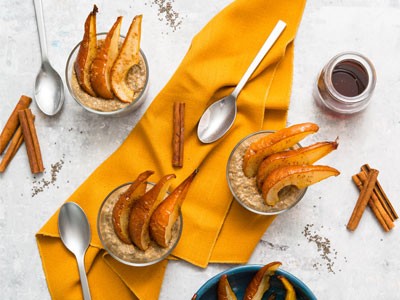 Ingredients
1¼ cups unsweetened almond milk
½ cup canned sweet potato puree
½ cup Woodstock Ⓡ Black Chia Seeds
5 tablespoons maple syrup, divided
1 teaspoon ground cinnamon
½ teaspoon ground ginger
½ teaspoon ground cardamom
½ teaspoon fine sea salt
1 tablespoon coconut oil
4 ripe pears, such as Anjou, Bosc, or Bartlett, peeled, halved, cored, and cut into 1" wedges
Directions
In a large bowl whisk to combine almond milk, sweet potato puree, chia seeds, 2 tablespoons maple syrup, cinnamon, ginger, cardamom, and salt. Cover and refrigerate overnight.
Preheat oven to 425℉.
In a small skillet combine remaining 3 tablespoons maple syrup and coconut oil. Place over low heat until coconut oil is melted and mixture is smooth. Place pears in a large baking dish, drizzle with maple mixture, and toss gently to coat.
Place pears in oven and roast until tender and caramelized, about 30 minutes.
To serve, whisk chia pudding to break up any clumps, then divide between 4 glasses or jars. Top with pears and any caramelized juices.