Pumpkin and Pecan Breakfast Cookies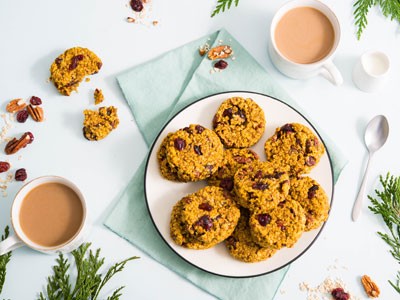 Ingredients
2 cups WoodstockⓇ Organic Instant Oats
⅔ cup WoodstockⓇ Organic Dried Cranberries
½ cup toasted WoodstockⓇ Organic Pecans, chopped
¼ cup ground WoodstockⓇ Organic Flaxseed
1 teaspoon pumpkin pie spice
½ teaspoon fine sea salt 
1 very ripe banana, cut into small chunks
½ cup pumpkin puree
3 tablespoons coconut oil, melted
3 tablespoons maple syrup
2 large eggs, beaten
Directions
Preheat oven to 350℉. Line a large baking sheet with parchment paper.
In a large bowl combine oats, cranberries, pecans, flax, spices, and salt. In a medium bowl mash banana well, then stir in pumpkin, coconut oil, maple syrup, and eggs until combined. Stir wet ingredients into dry ingredients until well-mixed.
Scoop batter using a ¼ cup measure onto baking sheet, and flatten cookies slightly.
Bake until cookies are set and very lightly browned, 18-20 minutes.
Transfer cookies to a rack to cool completely. Store in an airtight container at room temperature for up to 1 week.