Peach-Turmeric Smoothie with Peanut Butter Crumble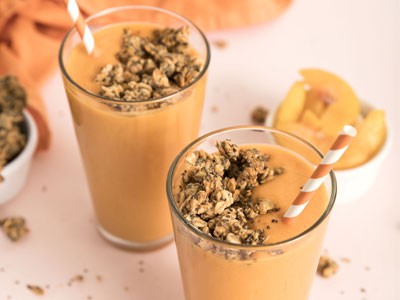 Ingredients
3 tablespoons WoodstockⓇ Unsalted Organic Smooth Peanut Butter
3 tablespoons plus 1 teaspoon honey or maple syrup, divided
½ cup rolled WoodstockⓇ Organic Irish Style Oats
2 tablespoons WoodstockⓇ Chia Seeds
1 cup WoodstockⓇ Frozen Organic Peach Slices
Directions
Preheat oven to 325℉. In a small saucepan, heat peanut butter and 3 tablespoons honey or maple syrup, stirring occasionally until combined. Toss with oats and chia seeds. Spread mixture on a baking sheet and bake until lightly browned, 20-25 minutes. Set aside to cool completely.
In a blender, combine peaches, banana, carrot, turmeric, coconut milk, lime juice, and remaining 1 teaspoon honey. Blend until very smooth.
Pour into a glass and top with peanut butter crumble. Store extra crumble in an airtight container for up to 1 week.