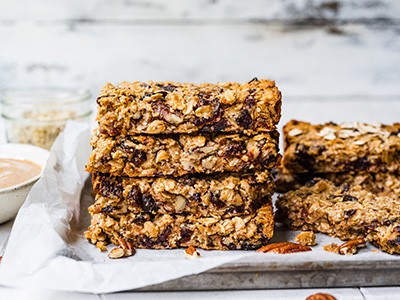 Ingredients
2 tablespoons coconut oil, melted
½ cup honey or maple syrup
¼ cup WOODSTOCK Organic Peanut Butter or WOODSTOCK Organic Almond Butter
¼ cups unsweetened applesauce
½ teaspoon vanilla extract
½ teaspoon salt
¼ teaspoon cinnamon
½ cup WOODSTOCK Organic Unsweetened Shredded Coconut
¼ cup WOODSTOCK Organic Pecans, chopped
5 ounces WOODSTOCK Dried Cherries, chopped
1 cup WOODSTOCK Organic Whole Rolled Oats
Directions
Preheat oven to 350F and line an 8x8" baking pan with parchment paper. 
Add coconut oil, honey, almond butter, applesauce, vanilla, salt and cinnamon to a large mixing bowl and whisk until smooth.
Add in coconut, pecans, dried cherries and oats and stir until well combined.
Transfer to baking dish and spread into an even layer.
Bake for 20-25 minutes, then remove from oven and let cool completely before removing from pan and slicing.