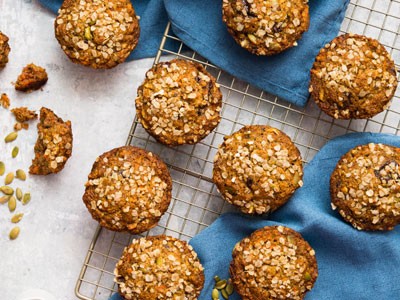 Ingredients
1 cup whole wheat or spelt flour
¾ cup almond flour or meal
2 teaspoons baking soda
1½ teaspoons ground cinnamon
½ teaspoon fine sea salt
3 large eggs
½ cup coconut oil, melted
½ cup maple syrup
2 teaspoons vanilla
1 cup grated carrot
1 cup grated cored tart apple
½ cup Woodstock Ⓡ Organic Pumpkin Seeds, toasted
½ cup roughly chopped dark chocolate
½ cup Woodstock Ⓡ Organic Instant Oats , plus more for garnish
Directions
Preheat oven to 350℉. Lightly oil a standard 12-cup muffin tin or line with paper liners.
In a large bowl whisk to combine flour, almond meal, baking soda, cinnamon, and salt.
In a medium bowl whisk to combine eggs, coconut oil, maple syrup, and vanilla. Stir in carrot, apple, pumpkin seeds, chocolate, and oats.
Stir wet ingredients into dry ingredients just until combined. Divide batter amongst muffin cups, filling almost to the brim. Sprinkle with oats.
Bake until golden and a toothpick inserted into a few muffins comes out clean, 20-25 minutes. Cool for 10 minutes in pan, then transfer to a rack to cool completely.