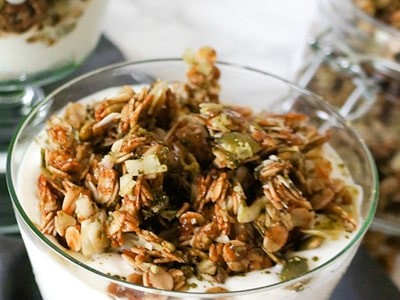 Ingredients
3 cups WOODSTOCK Organic Irish Style Oats
½ cup WOODSTOCK Organic Pumpkin Seeds
2 servings Vital Proteins Collagen Peptides
½ cup WOODSTOCK Organic Brown Sugar
½ tsp Pink Himalayan Salt
½ cup Harvest Bay Organic Unrefined Coconut Oil or Ghee
1 Tbsp Molasses
1 Tbsp Vanilla Bean Paste or High Quality Vanilla Extract
1 cup WOODSTOCK Organic Shredded Coconut
3 tsp Matcha Powder
Directions
Preheat oven to 300* Fahrenheit and line a baking sheet with parchment paper.
In a mixing bowl, whisk together collagen peptides, sugar, salt, coconut oil, molasses, and vanilla to create a thick paste.
Add in oats and pumpkin seeds. Using a rubber spatula, mix thoroughly, until all the oats and pumpkin seeds are well coated.
Pour the mixture onto the lined baking sheet and spread out to about a 1-inch thickness. Use the rubber spatula to make sure the top is smooth and the edges of the mixture are tight. Any stray oats will cook more quickly than the rest of the tray.
Bake for 35 minutes then remove from the oven and sprinkle the coconut and matcha on top. Fold the coconut and matcha into the hot oat mixture until decently combined. Re-smooth and place back in the oven for an additional 5-10 minutes, or until the granola is just lightly browned. Optional: If you prefer a stronger matcha flavor, sprinkle a bit more matcha powder on top right out of the oven.
Let cool for a good 15-20 minutes before breaking into chunks.
Store in an air tight container for up to 2 weeks.