Chunky Monkey Oat Smoothie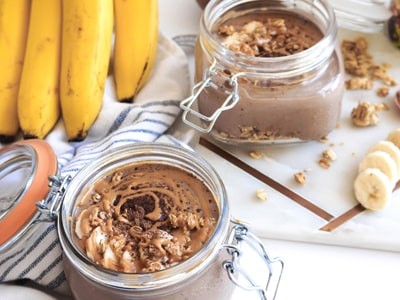 Ingredients
2 Frozen Bananas
1 ½ cups Unsweetened Almond Milk
2 Tbsp WOODSTOCK Organic Peanut Butter, Smooth
2 tsp Unsweetened Cocoa Powder
2 Pitted WOODSTOCK Organic Medjool Dates
1 cup WOODSTOCK Organic Instant Oats
Peanut Butter
Cocoa Powder
Oats
Fresh Banana
Directions
In a blender, soak oats and dates in almond milk for 15-20 minutes.
Add in frozen banana, peanut butter, and cocoa powder. Start blending on low and gradually increase the speed to medium-high for about 5 minutes total, or until all of the oats and fruit are well blended and smooth.
Top with additional peanut butter, cocoa powder, oats, and fresh banana.